托福TPO阅读52文本+题目+答案+解析(PDF)下载
TPO阅读52 溪流沉淀
Stream Deposit
A large, swift stream or river can carry all sizes of particles, from clay to boulders. When the current slows down, its competence (how much it can carry) decreases and the stream deposits the largest particles in the streambed. If current velocity continues to decrease - as a flood wanes, for example - finer particles settle out on top of the large ones. Thus, a stream sorts its sedimentaccording to size. A waning flood might deposit a layer of gravel, overlain by sand and finally topped by silt and clay. Streams also sort sediment in the downstream direction. Many mountain streams are choked with boulders and cobbles, but far downstream, their deltas are composed mainly of fine silt and clay. This downstream sorting is curious because stream velocity generally increases in the downstream direction. Competence increases with velocity, so a river should be able to transport larger particles than its tributaries carry. One explanation for downstream sorting is that abrasion wears away the boulders and cobbles to sand and silt as the sediment moves downstream over the years. Thus, only the fine sediment reaches the lower parts of most rivers.
A stream deposits its sediment in three environments: Alluvial fans and deltas form where stream gradient (angle of incline) suddenly decreases as a stream enters a flat plain, a lake, or the sea; floodplain deposits accumulate on a floodplain adjacent to the stream channel; and channel deposits form in the stream channel itself. Bars, which are elongated mounds of sediment, are transient features that form in the stream channel and on the banks. They commonly form in one year and erode the next. Rivers used for commercial navigation must be recharged frequently because bars shift from year to year.Imagine a winding stream. The water on the outside of the curve moves faster than the water on the inside. The stream erodes its outside bank because the current's inertia drives it into the outside bank. At the same time, the slower water on the inside point of the bend deposits sediment, forming a point bar. A mid-channel bar is a sandy and gravelly deposit that forms in the middle of a stream channel.
Most streams flow in a single channel. In contrast, a braided stream flows in many shallow, interconnecting channels. A braided stream forms where more sediment is supplied to a stream than it can carry. The stream dumps the excesssediment, forming mid-channel bars. The bars gradually fill a channel, forcing the stream to overflow its banks and erode new channels. As a result, a braided stream flows simultaneously in several channels and shifts back and forth across its floodplain. Braided streams are common in both deserts and glacial environments because both produce abundant sediment. A desert yields large amounts of sediment because it has little or no vegetation to prevent erosion. Glaciers grind bedrock into fine sediment, which is carried by streams flowing from the melting ice. If a steep mountain stream flows onto a flat plain, its gradient and velocity decrease sharply. As a result, it deposits most of its sediment in a fan-shaped mound called an alluvial fan. Alluvial fans are common in many arid and semiarid mountainous regions.
A stream also slows abruptly where it enters the still water of a lake or ocean.The sediment settles out to form a nearly flat landform called a delta. Part of the delta lies above water level, and the remainder lies slightly below water level. Deltas are commonly fan-shaped, resembling the Greek letter "delta" (∆). Both deltas and alluvial fans change rapidly. Sediment fills channels (waterways), which are then abandoned while new channels develop as in a braided stream.As a result, a stream feeding a delta or fan splits into many channels called distributaries. A large delta may spread out in this manner until it covers thousands of square kilometers. 【*】Most fans, however, are much smaller, covering a fraction of a square kilometer to a few square kilometers. 【*】The Mississippi River has flowed through seven different delta channels during the past 5,000 to 6,000 years. 【*】But in recent years, engineers have built great systems of levees (retaining walls) in attempts to stabilize the channels. 【*】
索取"题目+答案+解析",请加sunny老师微信(shxhd),发送暗号"TPO52"
TPO阅读52 纳图夫文化
Natufian Culture
In the archaeological record of the Natufian period, from about 12,500 to 10,200 years ago, in the part of the Middle East known as the Levant - roughly east of the Mediterranean and north of the Arabian Peninsula - we see clear evidence of agricultural origins. The stone tools of the Natufians included many sickle-shaped cutting blades that show a pattern of wear characteristic of cerealharvesting. Also, querns (hand mills) and other stone tools used for processing grain occur in abundance at Natufian sites, and many such tools show signs of long, intensive use. Along with the sickle blades are many grinding stones, primarily mortars and pestles of limestone or basalt. There is also evidence that these heavy grinding stones were transported over long distances, more than 30 kilometers in some cases, and this is not something known to have been done by people of preceding periods. Fishhooks and weights for sinking fishing nets attest to the growing importance of fish in the diet in some areas. Stone vessels indicate an increased need for containers, but there is no evidence of Natufian clay working or pottery. Studies of the teeth of Natufians also strongly suggest that these people specialized in collecting cereals and may have been cultivating them and in the process of domesticating them, but they were also still hunter-foragers who intensively hunted gazelle and deer in more lush areas and wild goats and equids in more arid zones.
The Natufians had a different settlement pattern from that of their predecessors. Some of their base camps were far larger (over 1,000 square meters) than any of those belonging to earlier periods, and they may have lived in some of these camps for half the year or even more. In some of the camps, people made foundations and other architectural elements out of limestone blocks. Trade in shell, obsidian, and other commodities seems to have been on the rise, and anthropologists suspect that the exchange of perishables (such as skins, foodstuffs) and salt was also on the increase. With the growing importance of wild cereals in the diet, salt probably became for the first time a near necessity: people who eat a lot of meat get many essential salts from this diet, but diets based on cereals can be deficient in salts. Salt was probably also important as a food preservative in early villages.
As always, there is more to a major cultural change than simply a shift in economics. The Natufians made (and presumably wore) beads and pendants in many materials, including gemstones and marine shells that had to be imported, and it is possible that this ornamentation actually reflects a growing sense of ethnic identity and perhaps some differences in personal and group status. Cleverly carved figurines of animals, women, and other subjects occur in many sites, and Natufian period cave paintings have been found in Anatolia, Syria, and Iran. 【*】More than 400 Natufian burials have been found, most of them simple graves set in house floors. 【*】As archaeologist Belfer-Cohen notes, these burials may reflect an ancestor cult and a growing sense of community emotional ties and attachment to a particular place, and toward the end of the Natufian period, people in this area were making a strict separation between living quarters and burial grounds. 【*】In contrast with the Pleistocene cultures of the Levant, Natufian culture appears to have experienced considerable social change. 【*】
The question of why the Natufians differed from their predecessors in these and other ways and why they made these first steps toward farming as a way of life remains unclear. There were climate changes, of course, and growing aridity and rising population densities may have forced them to intensify theexploitation of cereals, which in turn might have stimulated the development of sickles and other tools and the permanent communities that make agricultureefficient. But precisely how these factors interacted with others at play is poorly understood.
索取"题目+答案+解析",请加sunny老师微信(shxhd),发送暗号"TPO52"
TPO52 撒哈拉以南非洲早期食品生产
Early Food Production In Sub-Saharan Africa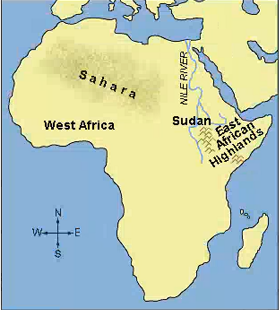 At the end of the Pleistocene (around 10,000 B.C.), the technologies of food production may have already been employed on the fringes of the rain forests of western and central Africa, where the common use of such root plants as the African yam led people to recognize the advantages of growing their own food. The yam can easily be resprouted if the top is replanted. This primitive form of "vegeculture" (cultivation of root and tree crops) may have been the economic tradition onto which the cultivation of summer rainfall cereal crops was grafted as it came into use south of the grassland areas on the Sahara's southern borders.
As the Sahara dried up after 5000 B.C., pastoral peoples (cattle herders) moved southward along major watercourses into the savanna belt of West Africa and the Sudan. By 3000 B.C., just as ancient Egyptian civilization was coming into being along the Nile, they had settled in the heart of the East African highlands far to the south. The East African highlands are ideal cattle country and the home today of such famous cattle-herding peoples as the Masai. The highlands were inhabited by hunter-gatherers living around mountains near the plains until about 3300 B.C., when the first cattle herders appeared. These cattle people may have moved between fixed settlements during the wet and dry seasons, living off hunting in the dry months and their own livestock and agriculture during the rains.
As was the case elsewhere, cattle were demanding animals in Africa. They required water at least every 24 hours and large tracts of grazing grass if herds of any size were to be maintained. The secret was the careful selection of grazing land, especially in environments where seasonal rainfall led to marked differences in graze quality throughout the year. Even modest cattle herds required plenty of land and considerable mobility. To acquire such land often required moving herds considerable distances, even from summer to winter pastures. 【*】At the same time, the cattle owners had to graze their stock in tsetse-fly-free areas 【*】The only protection against human and animal sleeping sickness, a disease carried by the tsetse fly, was to avoid settling or farming such areas - a constraint severely limiting the movements of cattle-owning farmers in eastern and central Africa. 【*】As a result, small cattle herds spread south rapidly in areas where they could be grazed. 【*】Long before cereal agriculture took hold far south of the Sahara, some hunter-gatherer groups in the savanna woodlands of eastern and southern Africa may have acquired cattle, and perhaps other domesticated animals, by gift exchange or through raids on herding neighbors.
Contrary to popular belief: there is no such phenomenon as "pure" pastoralists, a society that subsists on its herds alone. The Saharan herders who moved southward to escape drought were almost certainly also cultivating sorghum, millet; and other tropical rainfall crops. By 1500 B.C., cereal agriculture was widespread throughout the savanna belt south of the Sahara. Small farming communities dotted the grasslands and forest margins of eastern West Africa, all of them depending on what is called shifting agriculture. This form of agriculture involved clearing woodland, burning the felled brush over the cleared plot, mixing the ash into the soil, and then cultivating the prepared fields. After a few years, the soil was exhausted, so the farmer moved on, exploiting new woodland and leaving the abandoned fields to lie fallow. Shifting agriculture, often called slash-and-burn, was highly adaptive for savanna farmers without plows, for it allowed cereal farming with the minimal expenditure of energy.
The process of clearance and burning may have seemed haphazard to the uninformed eye, but it was not. Except in favored areas, such as regularly inundated floodplains: tropical Africa's soils were of only moderate to lowfertility. The art of farming was careful soil selection, that is, knowing which soils were light and easily cultivable, could be readily turned with small hoes, and would maintain their fertility over several years' planting, for cereal crops rapidly remove nitrogen and other nutrients from the soil. Once it had taken hold: slash-and-burn agriculture expanded its frontiers rapidly as village after village took up new lands, moving forward so rapidly that one expert has estimated it took a mere two centuries to cover 2,000 kilometers from eastern to southern Africa.
索取"题目+答案+解析",请加sunny老师微信(shxhd),发送暗号"TPO52"